Salesforce announced Einstein GPT for sales, as well as many sales Cloud advancements, to enable businesses to interact with their customers with customized experiences powered by real-time data.
Einstein GPT for sales will integrate Salesforce's Einstein artificial intelligence models with generative AI technologies from an ecosystem of partners, as well as real-time data from the Salesforce Data Cloud, to automate and customize suggestions in the sales Cloud.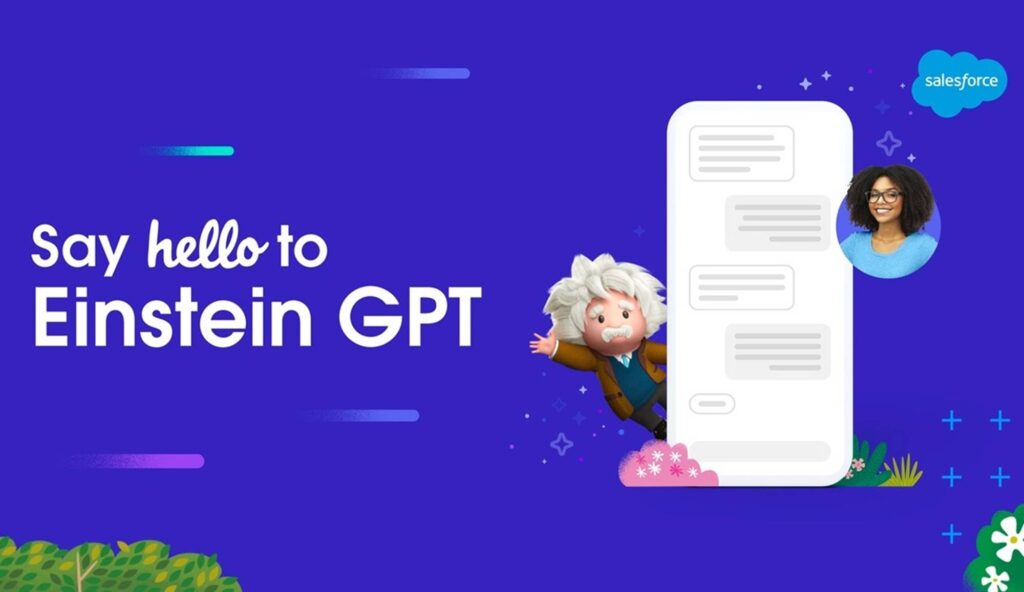 According to Salesforce, Einstein GPT for sales will combine real-time data with generative AI to improve purchase recommendations and personalize the shopping experience, and a new Composable Storefront page designer will assist merchants and marketers in creating unique commerce experiences on headless sites.
Customer happiness has always been a top priority for every firm, and the benefits of using artificial intelligence for customer service are numerous. An increasing number of firms are utilizing AI to boost their brand reputation, client loyalty, and overall company performance. AI may be utilized in all elements of marketing, sales, and service, as well as customer relationship management (CRM lead management) – a sector in which firms use AI to get consumer insights. When we think about CRM lead management, the first thing that comes to mind is Salesforce. Salesforce's artificial intelligence (AI) for CRM lead management, Einstein, has been empowering agents. With its comprehensive capabilities, Einstein helps many businesses to transition to intelligent customer service.
Einstein GPT for sales may produce tailored product listings or interactions for each consumer without preloaded product descriptions or information entered on the back end by leveraging customer demographic data and buying history via Data Cloud.
Sales Cloud features will assist retailers in creating seamless, personalized experiences across any commerce platform. Businesses may also create custom-tailored promotional offers that include personalized auto-generated communications to clients through WhatsApp, SMS, and email. Using a drag-and-drop editor and reusable components, a page designer for Composable Storefront helps control the site experience and develop sophisticated landing pages. In addition, the page designer includes React utilities for a headless page editor.
Salesforce Einstein is a machine learning engine incorporated within the Salesforce CRM lead management platform. With Salesforce's Einstein solution, you can tend to improve many of your customer experiences by deploying AI-based technologies where they are required. The Einstein tool can handle anything, from closing leads faster to suggesting product options that your customers might be interested in, and it can even follow up on time. Salesforce Einstein collects data from email, CRM lead management data, social, and IoT and then delivers ideas and projections for situations where you are striving to achieve a goal. Sales representatives will no longer have to manually enter sales data.
Composable Storefront accelerators, integrations, and pricing from Salesforce partners Astound, Capgemini, Deloitte Digital, DEPT, Valtech, IBM, Forward, and Uniform are also available.
"sales Cloud allows us to reduce our total cost of ownership while increasing flexibility, with choices for building a templated, composable, or hybrid shop." We can now drive efficient growth and a shorter time to value on a single platform.
Expand Your Knowledge: Einstein GPT in CRM lead management
Einstein GPT is the next version of Salesforce's AI engine, Einstein, which now produces over 200 billion AI-powered predictions each day across Customer 360. Customers may also leverage natural-language prompts on CRM data to trigger sophisticated, time-saving automation and produce tailored, AI-generated content by merging proprietary Einstein AI models with ChatGPT or other top big language models. The following new products are available today:
1.) Einstein GPT for Sales: Auto-generate sales activities like as email composition, meeting scheduling, and preparation for the next contact.
2.) Einstein GPT for Service: Create knowledge articles based on previous case notes. Increase customer satisfaction through tailored and quicker service encounters by auto-generating customized agent chat responses.
3.) Einstein GPT for Marketing: Create tailored content in real-time to engage consumers and prospects via email, mobile, online, and advertising.
4.) Einstein GPT for Customer 360 applications in Slack: With Slack, provide AI-powered customer insights such as smart summaries of sales possibilities and reveal end-user behaviors such as upgrading knowledge articles.
5.) Einstein GPT for Developers: Increase developer productivity by employing an AI conversation assistant to produce code and ask questions for languages such as Apex.
OpenAI created ChatGPT for Slack: In addition, Salesforce and OpenAI launched the ChatGPT for Slack app today. The app now includes AI-powered discussion summaries, research tools for learning about any topic and writing support to help you swiftly create replies.
We believe that incorporating AI into our CRM lead management has resulted in significant operational efficiencies for our advisors and clients. We also believe that this technology has the potential to transform the way businesses interact with their customers, deliver personalized experiences, and drive customer loyalty. We are pleased to collaborate with Salesforce on this opportunity to deliver the next generation of tailored customer experiences.
Growing a company's customer service has never been easier, but Einstein makes it possible. Its AI capabilities have made automation straightforward to implement since it is immediately embedded into Service Cloud, service channels, and CRM lead management data. AI-powered forecasts, recommendations, and chatbots active on digital channels make customers happier and agents more efficient.Salesforce will use generative AI to revolutionize every customer experience with Einstein GPT. Einstein GPT will combine Salesforce's own AI models with generative AI technology from a partner ecosystem and real-time data from the Salesforce Data Cloud, which ingests, harmonizes, and combines all of a company's customer data. Customers using Einstein GPT can then connect that data to OpenAI's advanced AI models out of the box or choose their own external model, and use natural-language prompts directly within their Salesforce CRM lead management to generate content that adapts to changing customer information and needs in real-time.Contact us if you're ready to dive into Salesforce Einstein for your company's growth and prospects. Techabled can help you implement and optimize Salesforce Einstein features for any Salesforce.com product.