Finding the perfect cloud solution to boost your revenue and supercharge your operations can be a bit like searching for a hidden treasure. But what if we told you that the treasure map is right in front of you, and it's called Salesforce Revenue Cloud? This cutting-edge platform isn't just a solution; it's a game-changer for your business. 
With a host of compelling features and benefits, Salesforce Revenue Cloud offers you the golden key to unlock a world of opportunities and success. 
In this blog, we're going to dive into the top 10 reasons why Salesforce Revenue Cloud should be your go-to choice, setting your business on a path toward unprecedented growth and profitability.  
What is Salesforce Revenue Cloud?
Before we dive into the top 10 reasons to choose Salesforce Revenue Cloud, it's essential to grasp the core essence of this innovative platform.  
Salesforce Revenue Cloud is a suite of solutions offered by Salesforce that redefines revenue management. It integrates Customer Relationship Management (CRM), Configure Price Quote (CPQ), Billing, and Partner Relationship Management into a unified, seamless platform. 
With Salesforce Revenue Cloud, businesses can effortlessly manage their entire revenue lifecycle, from generating quotes and closing deals to processing payments and analyzing data, all in one place.
Top Features of Salesforce Revenue Cloud 
Let's take you through the top features you get when you adopt the Salesforce  revenue cloud for your business:  
Comprehensive Revenue Management
Salesforce Revenue Cloud consolidates revenue management functions, ensuring that all aspects of your sales cycle are under one roof.  
This holistic approach allows for streamlined, end-to-end management.
Data-Driven Insights
Gain a deeper understanding of your revenue data with advanced analytics and reporting tools. 
Make informed decisions and identify trends that can drive revenue growth.
Seamless Integration
Enjoy seamless integration with other Salesforce products, creating a cohesive ecosystem that enhances your ability to manage revenue effectively.
Subscription Billing
Easily handle complex billing processes, including subscription-based models, with flexible billing solutions to cater to various customer needs.
Optimized Partner Relationships
Streamline collaboration with partners, resellers, and distributors, ensuring your revenue ecosystem is well-connected and efficient.
Top Benefits of Salesforce CPQ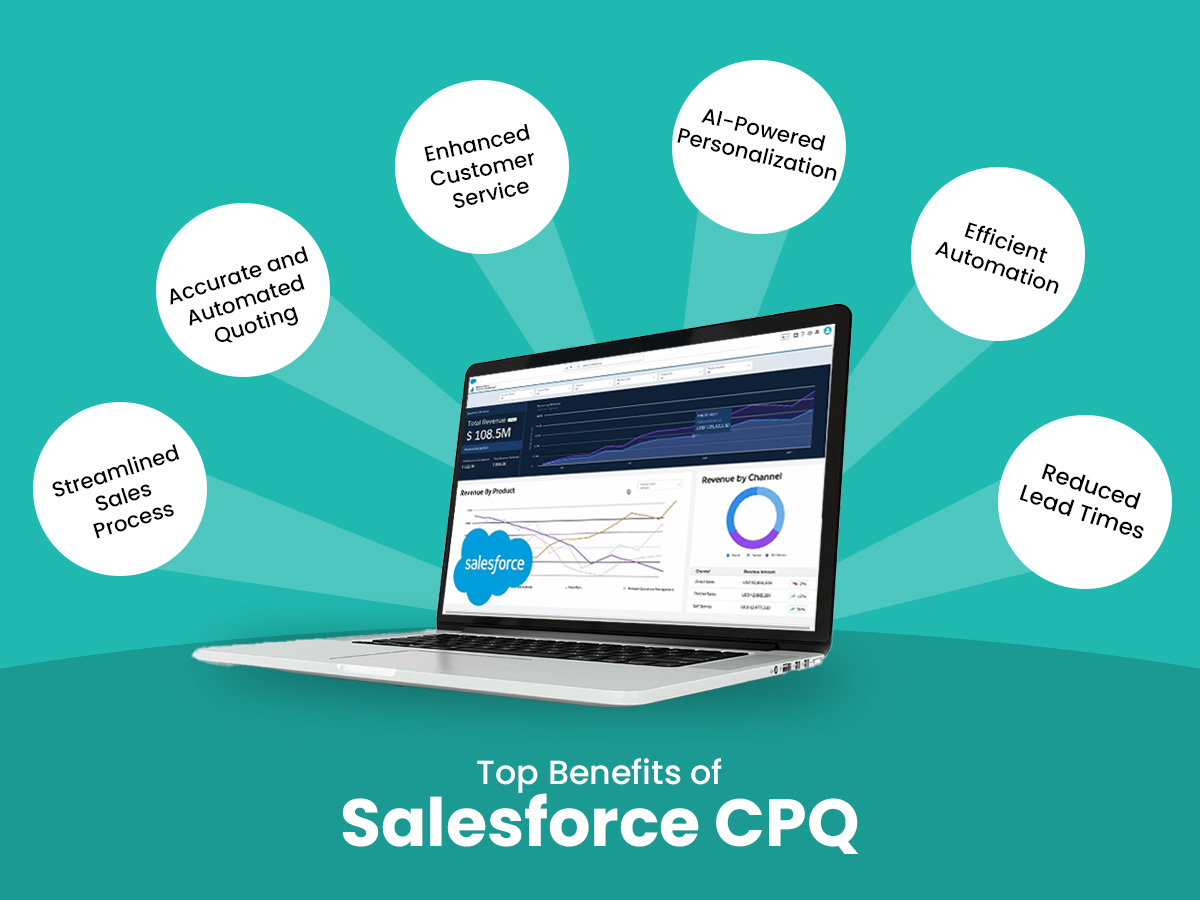 Salesforce CPQ, a key component of Salesforce Revenue Cloud, is a game-changer for businesses, offering a multitude of benefits: 
1. Streamlined Sales Process
Salesforce CPQ optimizes the quoting process, making it faster and more efficient. This streamlining allows your sales team to make quicker decisions and close deals faster.
2. Accurate and Automated Quoting
Salesforce CPQ ensures that your salespeople can prepare quotes quickly and accurately, with automated approval workflows that reduce administrative overhead.
3. Enhanced Customer Service
The guided selling feature in Salesforce CPQ provides a step-by-step process that assists sales reps in creating tailored quotes for customers, leading to higher satisfaction and loyalty. 
4. AI-Powered Personalization
By integrating AI-powered chatbots, you can provide personalized quotations to customers, significantly improving their experience and building stronger relationships.
5. Efficient Automation
Salesforce CPQ empowers your business with next-generation automation capabilities, from invoice generation to contract processing, saving time and reducing errors.
6. Reduced Lead Times
With Salesforce CPQ, you can cut down on mistakes and contract lead times, ensuring that your sales quotations are more efficient and responsive to customer demands.
Why choose Techabled Consulting?
Implementing Salesforce Revenue Cloud and CPQ can be a transformative experience for your business, and choosing the right consulting partner is paramount to success. Here's why Techabled Consulting stands out:
Expertise: Our qualified professionals are among the best in the industry. Their mission is to help you thoroughly understand and streamline your sales process, enabling you to close deals faster and generate significant revenue for your company.
Salesforce Partner: We are a Salesforce-certified partner, ensuring that you receive top-notch services and solutions directly from Salesforce experts. 
10 Years+ Salesforce Expertise: With over a decade of experience in Salesforce solutions, we have the knowledge and skills to tailor Salesforce Revenue Cloud and CPQ to your unique business needs.
35+ Certified Experts: Our team is equipped with a vast pool of Salesforce-certified experts, ensuring that your project is in the hands of seasoned professionals. 
Competitive Pricing: We offer competitive pricing to make your Salesforce implementation cost-effective.
High-End Customizations: Our team specializes in high-end customizations, ensuring that Salesforce solutions are tailored precisely to your requirements.
24×7 Tech Support: With our 24×7 tech support, you can rest easy, knowing that assistance is always at hand whenever you need it.
Conclusion:
Salesforce Revenue Cloud is more than just software; it's a strategic asset that can redefine your business's revenue management and sales operations. When coupled with Salesforce CPQ, the benefits are immense, from streamlined processes and improved accuracy to enhanced customer service and efficient automation.  
Choosing Techabled Consulting as your Salesforce Core implementation partner is the key to unlocking the full potential of these powerful Salesforce solutions, ensuring your business remains competitive and successful in today's fast-paced market. So, why wait? Transform your revenue management with Salesforce Revenue Cloud and CPQ and choose Techabled Consulting, an authorized salesforce reseller as your trusted partner on this journey.